Star Wars: Empire at War is a 2006 real-time strategy video game developed by Petroglyph Games and published by LucasArts. Set between Episode III and Episode IV, it focuses on the fledgling struggle between the Empire and the Rebels.
There are three game modes: storyline-based Campaign, Galactic Conquest and Skirmish. Battles can take place on a planet (land battle) or above the planet (space battle). Land battles are fought with infantry and ground vehicle units, while space battles are fought with starfighter squadrons and large spacecraft.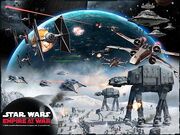 Ad blocker interference detected!
Wikia is a free-to-use site that makes money from advertising. We have a modified experience for viewers using ad blockers

Wikia is not accessible if you've made further modifications. Remove the custom ad blocker rule(s) and the page will load as expected.