Assault Frigate MK II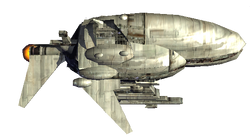 Special Attributes
Turbolasers Battery

x 2
- 350 health
- 1400 range
- 31° rotation
- 1.49 shots/sec

Laser Cannon Battery

x 2
- 350 health
- 1400 range
- 31° rotation
- 0.91 shots/sec

Engines
350
Tactical Health
3000
Shield Points
900
Shield Refresh Rate
63 points/sec
Max/Min Attack Distance
210.0/0.0
Cost
2500 credits
Speed
2.7
Class
Frigate
Affiliation
Rebel
Hyperspace Capable
Yes (1.5)
Population Slots
3
Req. Space Station
Level 3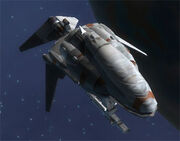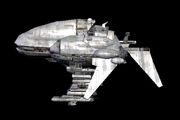 Heavy assault frigate armed with 2 enhanced turbolaser batteries and 2 laser cannon batteries. An advanced combat ship with emphasis on firepower at the expense of durability.

The Alliance to restore the Republic's answer to the new Victory Class Destroyer, the Assault Frigate MK II is the successor to the Assault Frigate MK I. It's essentially a Nebulon-B frigate with more health and shield strength.
It was manufactured by Rendelli Star Drives, the producers of the famous but old Dreadnaught-Class Cruisers.
Strong Against...
Acclamator Class Frigate
Interceptor IV frigate
Crusader Class Gunship
Weak Against...
Keldabe Class Battleship
Vengance Class Frigate
Imperial Star Destroyer
Ad blocker interference detected!
Wikia is a free-to-use site that makes money from advertising. We have a modified experience for viewers using ad blockers

Wikia is not accessible if you've made further modifications. Remove the custom ad blocker rule(s) and the page will load as expected.